Director - Coach - Teacher - Performer
My story
I've always felt like I'd go utterly mad if I didn't express myself in creative ways. It never felt like an option or a choice, as much as a necessity to express myself in order to stay relatively sane.
As a child I started performing first in acrobatics, then rhythmic gymnastics which transitioned into modern dance, and later on, as an actor in both traditional and experimental theater. In my teens, I added writing to my creative outlets, and in my twenties, I started painting and drawing. Meanwhile, I was performing the whole time.
Happy as a pig in mud
Being in the flow of the creative process, and collaborating with other creatives is truly my "pig in mud" spot, my absolute happy place.
Throughout my twenties, I continued to perform both as a dancer and an actor, only interrupted by four years of conservatory theater school training, during which time I had some health problems that lead me to Reiki and the healing path. Ever since I discovered Reiki and experienced an almost miraculous healing from it, and decided to become a Reiki master and teacher, the healing and creative paths have been inseparable for me.
After graduating with my BFA in Theater from New World School of the Arts in Miami, I moved to New York City to study at the Lee Strasberg Institute, and pursue performing, and ended up working as a dancer and choreographer. The cold winter and a boyfriend who lived in Los Angeles, convinced me to move out west. I've been in LA, primarily Santa Monica, since 1995.
I married, had a daughter, and got divorced, all in relatively quick succession. I was teaching Reiki and working as a massage therapist, as well as directing lots of independent theater productions on Theatre Row in Hollywood. The divorce forced me to focus more on making money to provide for my daughter, and the healing arts took over as my primary livelihood for a number of years. For a little over a decade, I opened and operated three Pilates studios, and went to business school at Pepperdine University for my master's degree in Organization Development. During this time, my creative expression shifted to birthing my Pilates business, writing blogs and short stories in addition to writing, staring in, and producing a short film.
In 2003, I became involved with Mark Estdale's Los Angeles-based productions as production coordinator. In 2016, I became Vice President for Vault 501, Mark's new recording studio in Santa Monica, which gave me the opportunity to step into full focus creative work again. In 2019, I launched on my own to direct voice over and offer coaching and workshops on voice over and performance capture for games and animation.
To this day, the creative and the healing arts are still interwoven in my work. As a Voice Over teacher, director, and performer, I get to play in the creative field with super-talented people. And as a practicing healer and Kabbalist, I get to help students and clients connect to their creative flow using the teachings of the Universal Kabbalah, where we work directly with the creation process called the Four Worlds, used for bringing ideas into manifestation. In plain English bringing your heartfelt desires to fruition.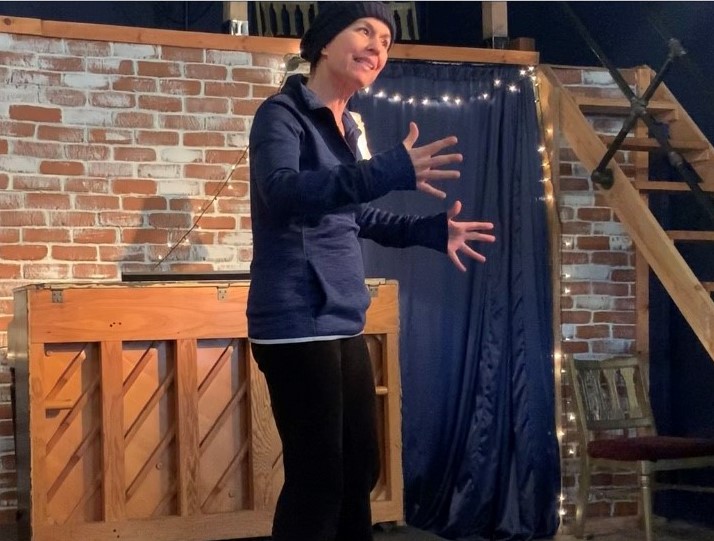 It was an honor to attend your performance. You were amazing and inspiring and beautiful! I look forward to attending future performances. I enjoyed the "behind the scenes" look at your struggle and process AND powerful result. I feel incredibly blessed to witness your creative journey. Thank YOU!" ~ Stacy Kirch, audience member
Trine C Jensen - Credentials
Trine is a voice over director, teacher, healer, and performer. She teaches actors how to deliver more authentic performances. Her work focuses on creating characters from the body and on working with the universal force that flows through all of us.
After three years as Vice President of Vault 501, she launched on her own to direct voice over and offer workshops on voice over and performance capture for games and animation, in Los Angeles, and in theater and film schools in the US and Europe. In addition to directing, and producing game demo reels, Trine also offers private voice over and acting coaching and is adjunct faculty at Los Angeles Performing Arts Conservatory.
Trine is a certified healer and has traveled extensively studying the performing arts, multiple healing traditions, meditation, and shamanism. She is a practicing Kabbalist trained in the teachings of the Universal Kabbalah, considered to be the mystical spiritual tradition of the West. Trine has been a lineage-holding Reiki master and teacher for thirty years.
Trine is a Professional Certified Coach. Her credentials include her B.F.A. in Theatre from New World School of the Arts and her M.S. in Organization Development from Pepperdine University. Additionally, Trine owned and operated three Bodywork and Pilates studios in Los Angeles.