Training for VO Actors and Creatives
Are you an actor looking for a new direction for your talents? Or are you hoping to pursue a career with your voice? As a sought-after teacher, director and performer, Trine understands intimately how to create interesting characters with voices that come alive:
Voice over coaching and workshops
Voice over training for video games utilizing the Game Immersive Voice Recording (GIVR) methodology
Workshops combining the GIVR method with Performance Capture
Improvisational writing workshops live and online
In partnership with OM Los Angeles (Vault 501)
After three years as Vice President of OM Los Angeles (Vault 501), Trine has transitioned to the role of Director of the GIVR method training in the US. She offers voice over training at OM Los Angeles (Vault 501) in Santa Monica and in theater programs in colleges across the US. Trine works with CEO and founder of OM recording studios, Mark Estdale, in continuing to refine the GIVR method, and at times teaches with him in London.
Mark Estdale has worked on over 1000 video game titles in more than 20 years in the industry at OM London and Los Angeles. He is the pioneer of the Game Immersive Voice Recording (GIVR) method and developed Creative Dialogue Tools (CDT), the software that facilitates Game Immersion. Mark currently teaches GIVR master classes at Royal Academy of Dramatic Arts (RADA), London Academy of Music and Dramatic Arts (LAMDA), and at Drama Center London.
Trine C Jensen was fricken AWESOME at teaching the GIVR for VO in Games Workshop. She was succinct, easy to listen to, knowledgeable, humorous, instructive, and engaging. She got a hell of a lot of info across easily and got everyone in the booth to work quickly and efficiently. EVERYONE got a lot out of the class. I was really impressed, and I've been in front of a lot of instructors. ~ Bill Millsap, VO Actor
That was a great workshop. I feel like I've graduated from watching Saturday morning cartoons to playing in Saturday morning cartoons. You have a kickass set-up. Thank you for taking the extra time to pick scripts that really allowed everyone to shine in their unique way. I felt like I threw down some of my best work this weekend - thanks to your supportive, intuitive, fun as hell process. Looking froward to submitting for upcoming projects - it will be a treat to play with you @ Vault 501 again soon. ~ Katherine Grant-Suttie, VO Actor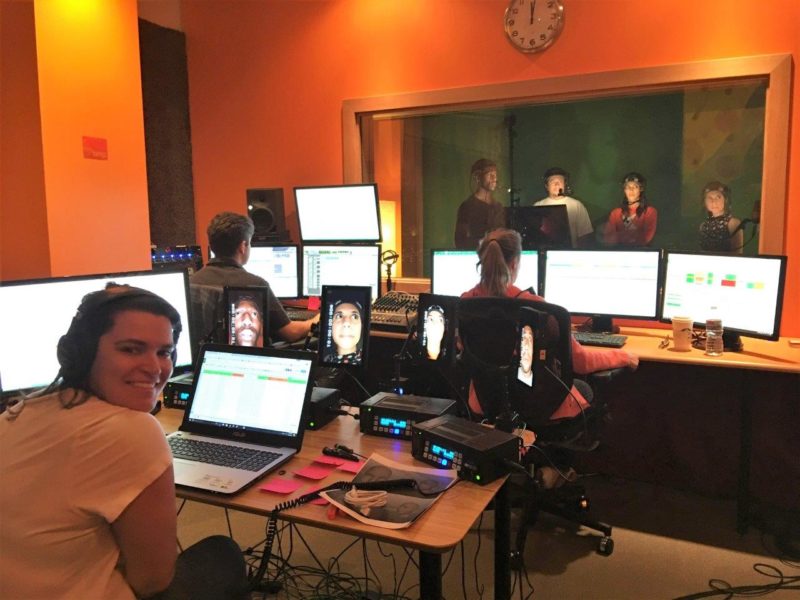 Game Immersive Voice Recording (GIVR) connects the actor to the game in an immediate way by providing the context the actors needs to create an authentic performance in the moment. Games provide their own special challenges for performers because the techniques classically used to develop character and learn context is all drawn from reading the script, rehearsing and learning the lines.
That simply isn't possible in games, because we're dealing with scripts with 750,000 or more words, which are often being edited until the morning of recording. When recording in the studio we have no time for character development, rehearsals or line memorization. The actor needs to be able to connect with the material quickly and trust their instincts to improvise as the character in the game context. We make that possible by providing character and scene images, music and ambient sound, and previously recorded feeder lines. All of that visual and audio context gives the actor an experience of being dropped right into the game, and the freedom to improvise in character, delivering a connected and nuanced performance.
Contact Trine direct for voice over coaching and acting training.